Think you've got dirty ducts? Well, there's more to it than that! HVAC system components typically include:
Supply Air Ducts
Return Air Ducts
Acoustic Insulation
Duct Plenum Boxes
Air Directional Dampers
Turning Vanes
Filters and Air Bypass
Heating Coils or Furnace Tubes
Cooling Coils
Condensate Pans
Condensate Drain Lines
Blower Fan & Housing
Door Gaskets
General System Mechanical Wiring
HVAC Inspections and Cleanings are determined and completed using these factors directly from the 2022 NADCA ACR Guide.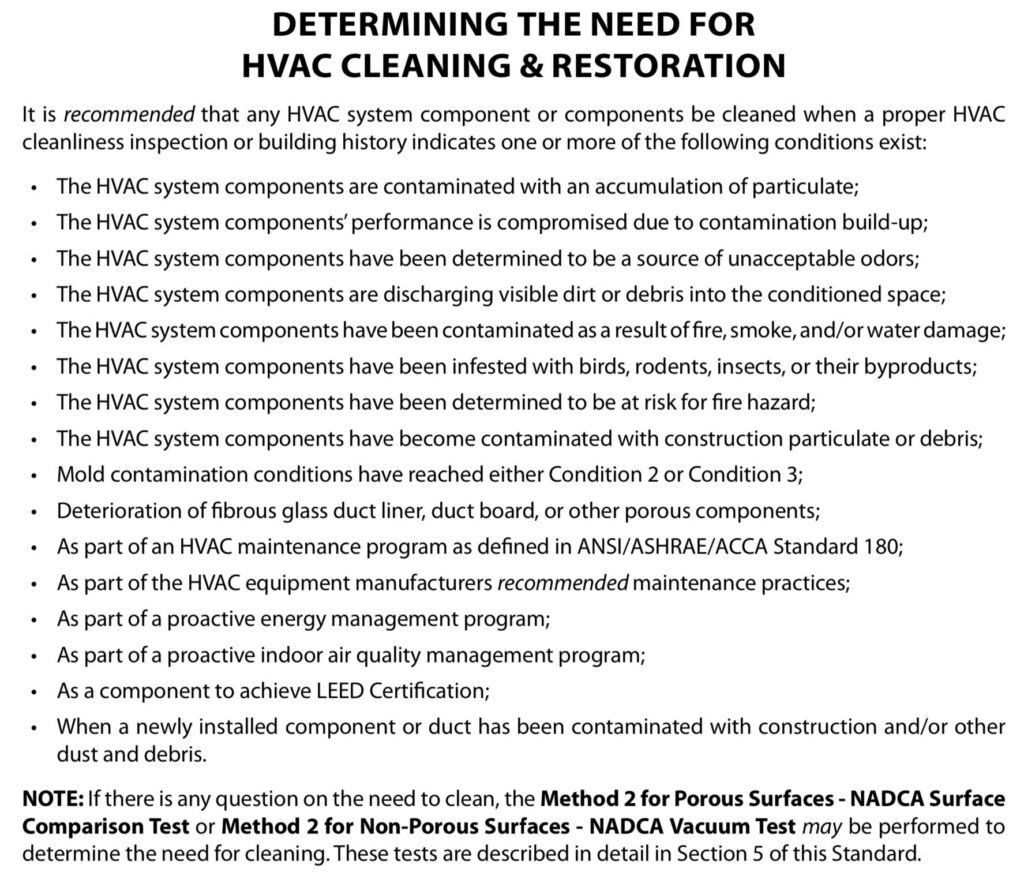 You should consider cleaning the air ducts in your home or business when:
There is substantial visible mold growth inside hard surface ducts or on other components of your HVAC system.
Ducts are infested with vermin.
Ducts are clogged with excessive amounts of dust or debris. 
Particles are falling down (or coming up) through your registers.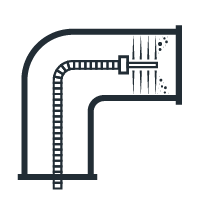 "You may consider having your air ducts cleaned simply because it seems logical that air ducts will get dirty over time and should occasionally be cleaned."
Indoor Air Quality
Your heating and cooling systems are the lungs of your home. The system breathes air in and out just like we do.
We generate a great deal of contaminants such as dander, dust, and chemicals. These are pulled into the system and re-circulated several times a day leading to a build up of pollutants in your air ducts.
This can cause serious issues for people with respiratory conditions, autoimmune disorders, or environmental allergies.
Energy Savings
"According to the U.S. Department of Energy, 25 to 40 percent of the energy used for heating or cooling a home is wasted." (NADCA)
Contaminants in your heating and cooling systems cause it to work overtime, thus shortening the life of your system.
When a system is properly maintained and cleaned, less energy is used, resulting in saving money on your energy bills!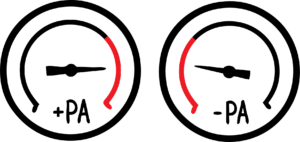 A good rule of thumb: "If your air ducts look dirty, they probably are."
Common Types of Duct Work
Rigid Metal w/ external insultation
Flexible Duct Lines w/ internal Mylar sheath
Metal Ductwork w/ internal insultation
Fiberboard Ductwork w/ internal insulation
Typically, if there is an absence of insultation on the exterior of duct work, it means it's on the inside. Ducts of this type will need to be sealed after cleaning. To learn more about these duct types, check out this video!
Why Use Us?
South East Clean Air Solutions is obsessed with Indoor Air Quality.
Whether you are residential or commercial, we are here to take care of any and all of your Air Duct and HVAC system needs. Our level of service and how we do business directly reflects our unwavering commitment to the health and safety of you, your loved ones, and your staff.
Check out our services below or contact us today to make sure you're breathing fresh air!